"Feel the Flow" of Tommaso Rubechi.
"The attempt to dominate events goes against the tide. Let it flow, and when you feel it flow again, ride it."
Welcome to our Sustainability report
The Report was digitized not only to facilitate more interactive data reading, but also to allow the data to be constantly updated and to reduce by 80% the paper that would have been dedicated to printing it.
This Sustainability Report therefore not only represents a symbol of constant transparency, but also a more sustainable response to unnecessary paper printing.
The choice of this year's cover is meant to raise awareness among shareholder and stakeholders on the growing critical issue of the water crisis. The flowing of water, whether slow or rushing, symbolically refers to the change and evolution, and our wish is that progress will be increasingly careful and sustainable in this and many other directions. In addition, the image is part of a collection of photos by a local artist, Tommaso Rubechi, selected to valorize the art of the area.
Dear collaborators,
The year 2022 was complex, still characterized by many uncertainties, due in particular to the conflict between Ukraine and Russia, which disrupted an economic system that had yet to stabilize itself from the pandemic. Additionally, inflation increased sharply, rates increased exponentially, deglobalization continues at a fast pace, the blockade of China began, raw material prices increased, and the climate crisis has worsened. In 2022, in a massive destruction of wealth, more than thirty trillion dollars in stocks and cryptocurrencies were wiped out. It was also a year characterized by history- making milestones, such as the Earth's population reaching eight billion inhabitants and the world economy exceeding one hundred trillion dollars.
This has been a demanding and uncertain period, marked by a series of events that led to the "great transition" characterized by changes in society, finance, culture and technology. We are increasingly motivated with pride to continue on our sustainable journey, also with new investments, to create new possibilities for our company and for the community. We are proud to share with you our 2022 Sustainability Report, which continues to progress every year, including more data and initiatives. Much has been done and much more remains to be done, but challenges are part of our history. Together every day, with great determination and passion, we contribute to building a better future.
From this perspective, 2022 was a year of goals achieved and new goals set, and above all of confirmations and awards. We won the Export Capital 2022 award aimed at companies that represent a pillar of the national economy in international markets. The Sustainability Award promoted by Kon Group and Credit Suisse recognized us among the top hundred Italian sustainable companies for our constant commitment to ESG objectives. As evidence of the path Italpreziosi has taken toward sustainability and ethics, Women in Mining UK included me in the ranking of the world's one hundred most sustainable women in the mining sector (WiM100 2022).
We have continued to place gender equality at the center of our vision and sustainability policies, sponsoring, organizing and attending women's empowerment and gender equality initiatives. We created and organized a panel on the role in the mining sector of women who are concerned with sustainability, dealing with topics such as combating inequalities, climate change, safeguarding biodiversity and valuing gender equality. Experienced women committed to building a more sustainable and egalitarian industry participated in the Vicenzaoro event. We also started the process of certifying gender equality (reference practice PdR UNI 125:2022), to demonstrate our commitment and seriousness about gender equality. We obtained this certification in early 2023, demonstrating the consistency of our values and our commitment to a more gender- responsive industry.
Faced with the advancing climate crisis and the resulting environmental and social challenges, we have committed ourselves to setting ever more ambitious mitigation goals.
For this reason, we started to measure our carbon footprint, then to report and monitor our impact, with the aim of improving our environmental performance. We are working to obtain the Carbon Footprint certification and continue to improve on this front. At the supply chain level, we have worked to improve our Chain of Information website dedicated to our counterparts. We extended its access to all our stakeholders, to increasingly contribute through training to a more responsible and sustainable supply chain. With this in mind, we have continued partnerships and activities with international institutions, in particular the collaboration with planetGOLD. This is a partnership involving international organizations such as the United Nations and the OECD, colleagues from the public and private sectors and NGOs. We became certified Fairmined Authorized Supplier partners in support of an ethical and transparent supply chain, for the benefit of workers, the community and the environment. We also became members of the Watch & Jewellery Initiative 2030, a project that Kering and Cartier launched aimed at watch and jewelry industry members and based on sustainable development goals. Internally, we have continued to train and update employees on crucial issues such as due diligence, to ensure awareness, responsibility, maximum control of the entire supply chain, and environmental and social sustainability principles for business and personal growth consistent with our values. To ensure maximum participation, we also established an internal competition, "Sustainability Champion," to bring everyone closer to everyday eco-sustainable actions and involve them in various good habits for the environment and the community. Special thanks to all those on our sustainable journey for their commitment and determination. We are confident that all together we can contribute in some way to improvement, even if small, of humans' economic and moral conditions.
I am convinced that our journey, uniting economy, individual, environment and society, can be the basis of a new culture. In it, business is recognized as not only sustainable and responsible but innovative and transparent.
Heartfelt thanks to all of you,
Ivana Ciabatti, Italpreziosi Board of Directors Chairperson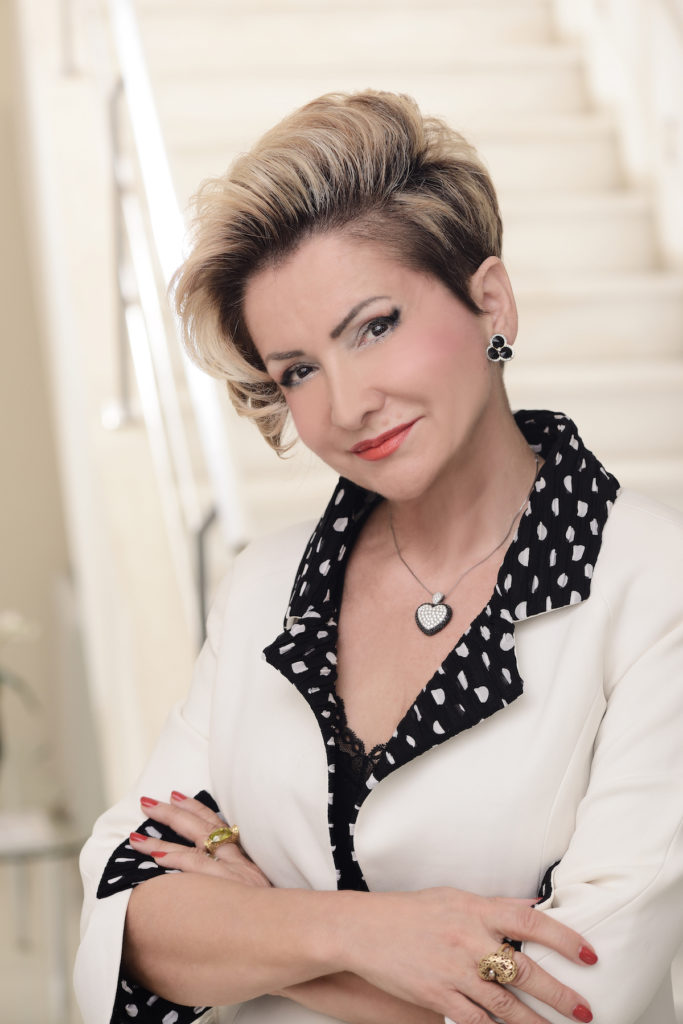 I have always imagined making a profit, but with ethics, dignity, morals and personal energy
Ivana Ciabatti
Italpreziosi Board of irectors Chairperson
according to our CEO, Ivana Ciabatti
"In my journey as an entrepreneur, I have always been guided by the sustainable path and humanistic capitalism.
With our sustainable path, we want to promote a fairer and more harmonious future, respectful of the environment, the planet's resources and human dignity, valuing education and raising awareness with particular attention to an increase in training. I believe that sustainability is a social pact with future generations because with this journey, in our small way, we want to satisfy the current generation's needs without compromising future generations' ability to meet their needs. Sustainability, in our sector in particular, is a complex journey and takes a great deal of determination and courage to find new solutions.
Ethical gold, as already mentioned before, represents a very dear topic for me. I would like to remind you that through GoldLake IP, already in 2008, we were among the first in world to address these issues, and above all, to put them into practice with total traceability of gold from extraction to finished jewel. Ethics represent a way of acting, a concrete act in everyday reality. I realize that ethics is a word often used inappropriately; it is much easier to say than to put it into practice.
My vision of "human capitalism" places humans at the center, giving them economic and moral dignity. At the same time, I try to promote these practices so that more people become aware of them. We always place the person at the center of our work, guaranteeing the excellence of the services we offer to our customers and suppliers, keeping particular attention on the dialogue with the communities in which we are present, aware that our work's true value lies in the resulting improvement in people's quality of life."
For over 39 years, our mission has been to be a point of reference for our stakeholders within the precious metals supply chain, offering excellence, quality, safety, innovation and reliability.
Our stakeholders include employees, local communities, customers, suppliers, institutions, members, organizations, companies, associations and competitors. We want to continue to create value with products and services of the highest quality and reliability, with the aim of contributing to a better precious metals industry for everyone. In fact, it is important for us to value every part of the supply chain, from the miner to the supplier, to our people, to the end customer, and more. For us, the environment, biodiversity, water and climate are fundamental actors and must be preserved and valued not only for us, but above all for future generations.
For this reason, we work daily to continue to be a leading company in sale, recovery and refining of precious metals, strengthening our position and international competitiveness through integration, cooperation and acquisition processes. Synergy with our stakeholders is and will be fundamental to advance our sustainable agenda.
Our standards and policies are in line with the United Nations 2030 Agenda, on the Sustainable Development Goals (SDGs), which have always characterized our business, today more than ever. We talk and collaborate with our colleagues to share and enhance the standards that we voluntarily follow and which we are convinced can change the industry's trend, making it even more responsible. This will be possible only through sincere collaboration and transparent information, which will allow the increase of best practices.
For us, the Sustainability Report represents the tool through which to communicate to our stakeholders the results of our sustainability journey.
Our Sustainability Report is based on the Global Reporting Initiative (GRI), Core version, and is in line with the United Nations Global Compact and the SDGs. References to the GRI Standards are shown in final GRI Content Index table.
The sustainable development goals
Global targets for sustainable development
The United Nations' 2030 Agenda for Sustainable Development, presented in September 2015, identifies the 17 Sustainabe Development Goals (SDGs) that represent common sustainable development objectives on today's complex social challenges and are a reference for ISPRA's activities.
Protection of the environment
Constant enhancement of our people
Transparency and sustainability